The "Danzsportclub Rout-Wäiss-Blo Lëtzebuerg" (RWB) is a non-profit organization founded in 1974 in the City of Luxembourg, following an initiative of a luxembourgish dance-school. After 2 years of existence, the club strived for independence in order to foster competitive dancing in Luxembourg. At these times, dance-sport was practically non existent. As pioneers of competitive dancing in Luxembourg, its couples travelled the whole world and represented Luxembourg on major events worldwide.
In early times, the pioneers were mainly Jean-André and Josée Stammet, Pierre and Marianne Pignolo-Leszczynski, Roland and Brigitte Fürpass-Hamm, as well as Raymond and Jeannine Manes-Hellenbrand. In a second period, the following couples emerged: Patrick and Gaby Bäcker-Reifenberg, Pierre and Isabelle Ewert-Duhaze, Serge and Peggy Quazzotti-Fogel, Jean-Marie Cuelenaere and Frank Morche, Guy and Barbara Wiesen-Pankratz as well as David Pereira and Sandy Kirsch. In more recent times, Marcel and Thésy Tockert, Henri and Francine Leboutte, Guy and Mirjam Butgenbach-Huize and Georges et Chantal Rach competed as members of our club.
Quality being paramount, the club is currently member of the Luxembourg National Dance Council - LNDC (member of World Dance Council - WDC and WDC AmateurLeague ). As of today, the number of the members of the club reaches approximately 100. An average of 10 leisure sport couples and 3 competitive couples dancing for the LNDC form the nucleus of the association.
The RWB logo developed in 1988 by the former agency "Made by Sam's", Luxembourg for the 15th anniversary of the club :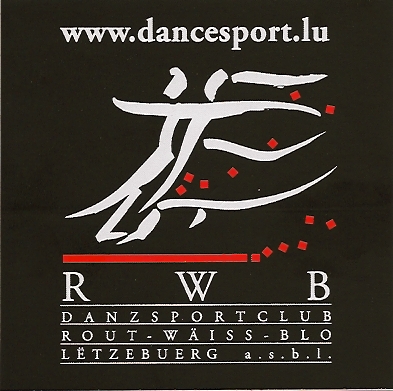 Statutes of the association
And here are the statutes of our association: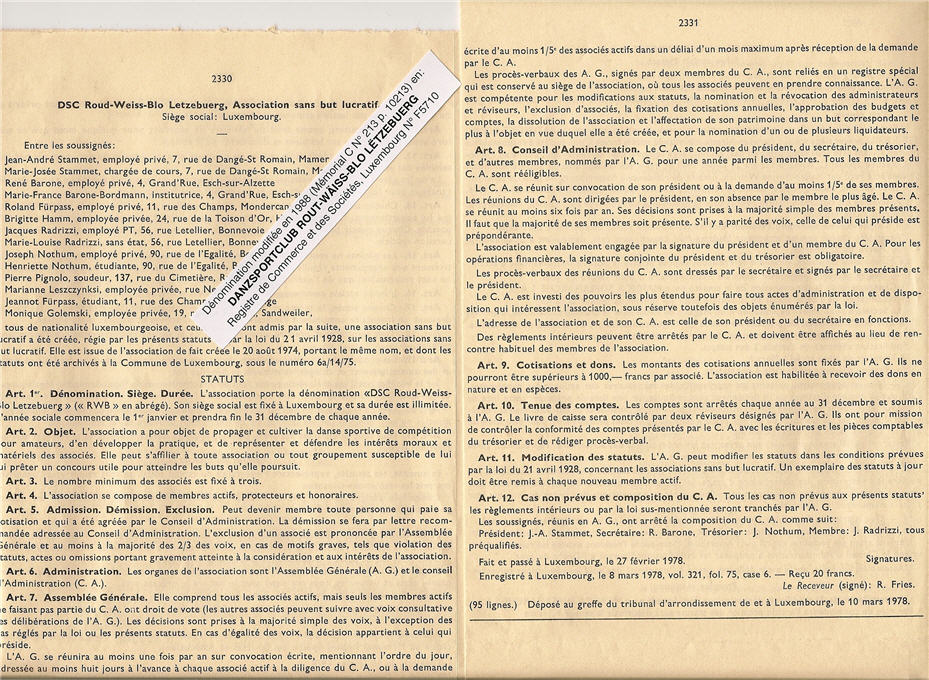 Composition du Conseil d'administration 
 
Nom
Fonction
 
Serge QUAZZOTTI
Chairman of the board
 
Thésy TOCKERT
Secretary
 
Marie-Andrée BERTRANG (co-optée)
Treasurer
 
Henri LEBOUTTE


Member of the Board

 

Francine LEBOUTTE

Member of the Board

 
Peggy QUAZZOTTI-FOGEL

Member of the Board

 

Josée STAMMET

Member of the Board

 
Patrick BÄCKER

Member of the Board

 

Jean-André STAMMET

Honorary chairman
 

 Webmaster

Emmanuel LIBEAU
Webmaster